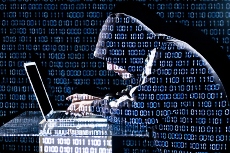 Any business that is developing a SWOT (Strength, Weaknesses, Opportunities and Threats) strategy as part of their annual business plan will be considering what threats are likely to be a problem or risk for the business in 2017. One of the main risks which many companies, large or small, will note is the risk of cybercrime.
Cybercrime has become such a huge issue because hackers are constantly finding new ways to target a company's customer base, data or private files.
Here are a few top tips and risks regarding cybercrime this year, which you may want to safeguard your business against:
All industries are at risk
Traditionally, hackers might target banks or the financial sector. Now, all industries have been experienced hacking attempts. According to OpenIP.com, cyber security is a relatively new issue to manufacturing bodies. The research shows that 64% of businesses in the industry have no incident plan in place and that half of the companies have made no increase to their cyber security investment. Similarly, the retail industry also has only just seen cyber security as a threat. There has been many high-profile cases in the past few years, such as eBay, which saw millions of customers' passwords compromised in one of the largest retail breaches to date. The NHS in the UK has also recently been targeted, showing that healthcare is also a sector at risk.
Targeting your staff
One of the primary ways hackers get into your systems is via a staff member at your office – usually unwillingly, they disclose information that they shouldn't. A hacker could pose as the CEO of the company, asking an HR assistant for a list of staff email addresses, and the colleague would have no reason to doubt the request. You need to ensure staff are educated properly and know what to do if they are suspicious of some correspondence.
Phishing Emails
Phishing emails to your customers are one of the top risks your company may face. Wonga South Africa found this out when hackers used their brand image as the front for an aggressive phishing campaign. The hackers obtained contact information from thousands of South Africans (no data leak occurred from Wonga itself) and masqueraded as Wonga while contacting them with a 'too good to be true' loan offer, which required the victim to supply bank details and a pre-payment to secure the rate – which obviously was all a fabrication. Wonga responded rapidly, immediately setting up a fraud hotline and advising their customers of the hoax. Their website kept customers up to date, which was a reassuring way to handle the situation and implement some damage control. In fact, getting 'damage control' in place is a good idea in case the worst does happen to your company. Prepare to act quickly to minimise damage and to reassure those affected.
Storage of data
You need to pay carefully attention to how you store data and paperwork. Many companies need to keep hold of paperwork, but it is a good idea to regularly organise what you have so that you get rid of what you don't need. Shred all material and recycle of it responsibly. When it comes to data storage, invest in a decent