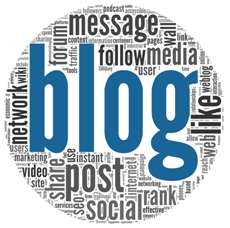 While there are a number of ways to improve your small business' marketing strategy, blogging needs to be a priority. We recently conducted a survey where we found a number of small businesses don't have a blog. It can take time, but it's a valuable tool.
By sharing your thoughts on industry news and other helpful topics, you're able to bring value to your customers. So let's break down how to make that happen.
Why Small Businesses Aren't Blogging
It's important to consider what could be keeping you from blogging. Whether it's time, lack of ideas, or your website, it's important to identify the problem so you can fix it.
This could mean distributing the task to your team or scheduling time each week. Whatever you need to begin your blogging happen, do it. Create a routine now, and over time you'll start to see the results. And by results, we mean increased leads that lead to company growth. Not bad, right?
The Biggest Reason Companies Aren't Blogging
The biggest reason the business owners represented in this survey weren't blogging is time. 35% of respondents know blogging is important, but can't set aside the time to write.

This is the important part: it's okay to accept help. You have your expertise and are busy running your company. If this is you, it may be time to bring in outside help. Hiring an agency to handle your website needs and create the ideal blog posts for your business can help you get back to what you do best: building up your company.
Finding Blog Topics for Your Small Business
Another reason small businesses don't blog is finding topic ideas. Don't wait to have the perfect schedule or perfect ideas, just start writing! We definitely need to keep improving, but we also need to start somewhere.
If you don't know what to write about, consider these questions:
What industry are you in?
What is your niche? What sets you apart?
What are the top questions from potential customers? (I.e., budget, time frame, or materials used.)
What is something you wish people knew about your industry or company?
What is a common misconception about your niche?
And now you have some ideas for your first few blog posts! That wasn't too painful, right?
Building a quality website and maintaining a blog is important for small businesses. And as our survey showed, small business owners may realize that blogging is important, but they don't know where to start and they don't have the time. With these tips, though, you'll be able to create your blogging routine.
For more insights from this small business marketing survey, our infographic has all the numbers you need to know!

Marc Apple is the Chief Strategist at Forward Push, an inbound marketing agency with offices in San Francisco, Nashville, and Atlanta. At Forward Push we specialize in helping small businesses navigate the ever changing internet. We do this through lead generating website design and development, content creation, email marketing, and video creation.